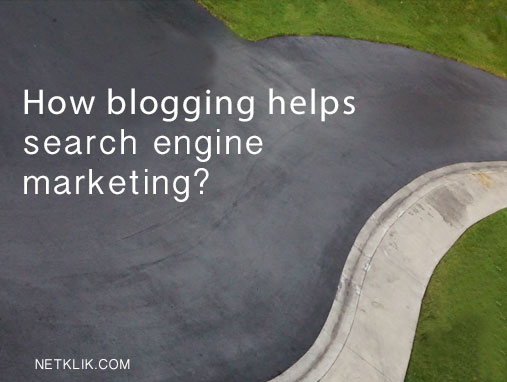 I frequently remind my clients about the importance of having a blog and about keeping it up to date by regularly writing articles for it, related to their business or industry. In my opinion, blogging is without any doubt an essential part of search engine marketing strategy for their business.
It has been demonstrated in different opportunities that blogging improves web site positioning.
The article by Rich Burnes, Study Shows Business Blogging Leads to 55% More Website Visitors , even though written a few years ago, mentions the results of businesses that use blogging Vs those that don't, and the results speak for themselves.
The more and better material is covered in your website/blog, the greater are the probabilities of attaining a better search engine marketing results. Along the same lines, if your blog has more articles with engaging and dynamic content, there is a higher probability that they will be included in Google's and other search engine results.
Have you noticed that many successful businesses have blogs?
Obviously, blogs work!
Have you seeing that Google search results often include posts' information?
This confirms the importance of adding new content frequently and continuously. The older the content of your blog, the better your website it is seeing by Google and other search engines.
Every day, adding fresh content to your website is more important in search engine marketing, and an easy way to do this without making changes to your website is through the publishing of articles on your blog.
6 Example of content types that you can use on your blog as part of your search engine marketing strategy
News relevant to your industry, for example: new laws, products, etc.
Information on new products and/or services you offer
Testimonials about your products and/or services
Examples of how individuals or businesses have benefited from using your products and/or services
Examples of how your products and/or services solve problems
Information about events and/or workshops you offer
As you can see, the range of information to be shared is ample. But, from my own experience, I know it is not easy to write regularly. In many cases, the problem consists in implementing a system that will allow us to produce content. If there is no available person to follow through, it is possible to contract this service from a professional. The key is to assign this responsibility to one person, either inside or outside of your business.
How can I help you?
If you don't know where to start, I can help you decide, which possible topics would be interesting to include in your blog. If you want to go deeper, we can create a list of specific topics to post in the next 12 months. If you still have doubts about how to position your website in the search engines, don't hesitate to contact me.