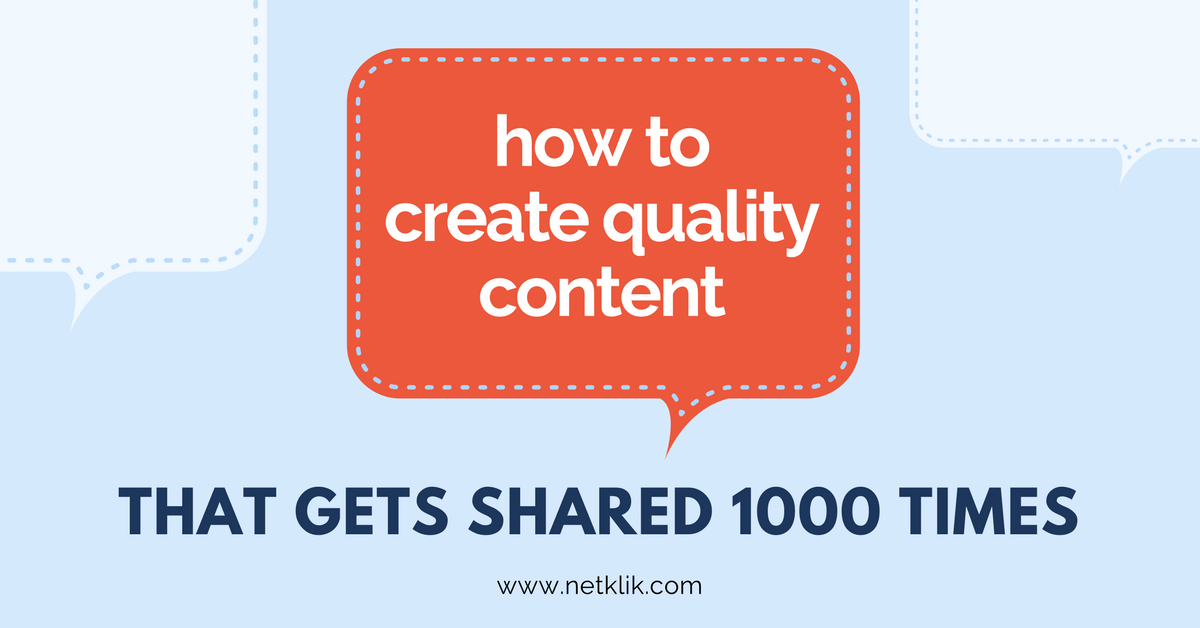 You will probably often wonder what the secret is to writing quality content.
The truth is that it's even more difficult to have your content be seen and read by your audience.
Today, I want to share with you a strategy that I have been using that has allowed me to share my posts in a way that I would have never imagined before.
How one of my posts was shared over 1000 times
About a year ago, I wrote this post in Spanish and it has been shared over 1000 times (without paid traffic).
You can read the complete post through the following link:
Cómo usar Google para conseguir clientes
The truth is that I never thought this would be possible and I want to share with you how I did it and the lessons I learned.
Strangely enough, the reason this post was shared so many times has no direct relationship with my writing skills. Although definitely, knowing how to choose the topic played a big role.
The door that led me down this road
Surely, you've had one of those moments where you sense that you're living an important experience that will change the way you see things. Although at that precise moment, you are not exactly sure how.
This was exactly what happened to me the first time I heard of Donna Moritz and well known blog Sociallysorted.com.
Donna specializes in Social Media Marketing through visual content and is one of the people I admire the most that dominates this space. Her content is published regularly worldwide in media websites like: Social Media Examiner, Entrepreneur Online, Forbes, Huffington Post, etc.
My curiosity and my desire to learn more
At that time, I was not clear what visual social marketing was.
But since I feel a natural fascination towards visual, I did not think about it too much.
I was totally drawn to the idea of using visual content to increase traffic to my website and improve the results of my business.
So I decided to learn more about what she did and how she did it.
I read and learned everything I could from her blog.
And the next natural step was to enroll on her online course, where she teaches how to create traffic driving images.
The moment everything changed
Once I finished the course, the first thing I did was put into practice everything I learned and I wrote a blog that included visual content. In this blog post I included an infographic and Slideshare presentation. Here is the link to the post:
No sufras de parálisis por análisis: 10 decisiones que debes tomar para asegurar el éxito de tu página web
As of today, this post has been shared more than 300 times.
My post as a case study
In this post I carefully followed her advice and recommendations. The blog post caught Donna's attention and was included as a case study in one of her more advanced trainings.
Since then, I've consistently added visual content to all my content.
Today I want to share with you the 3 most important lessons I have learned through the use of visual content.
How to create quality content (that gets shared 1000 times): 3 lessons I learned
1. The power of visual content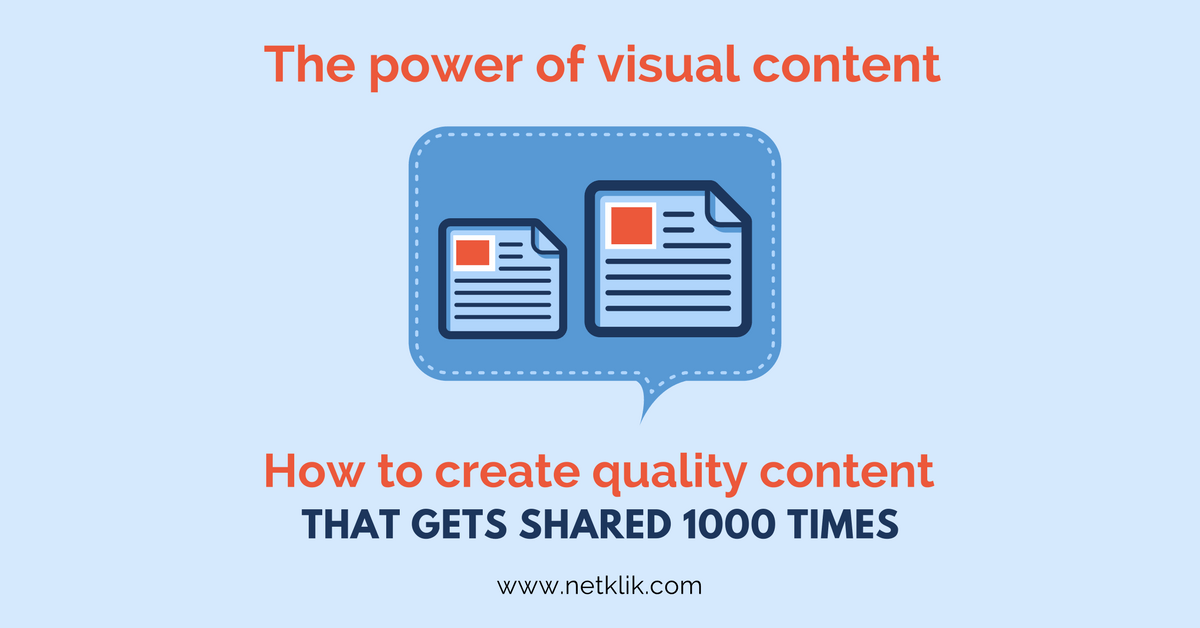 Donna Moritz has a totally different take on how to use social media to promote your business.
I learned that to effectively communicate my ideas, I need to illustrate and communicate them visually.
in addition, the use of visual content allows your content to be unique and stand out.
The use of visual content in my posts has allowed my content to move and be seen by people I would normally not have access to.
What I discovered
By following her recommendations, my website traffic has increased over 500%. Not only that, but I have also learned how to use visual content to convert traffic into subscribers.
2. Experimenting is key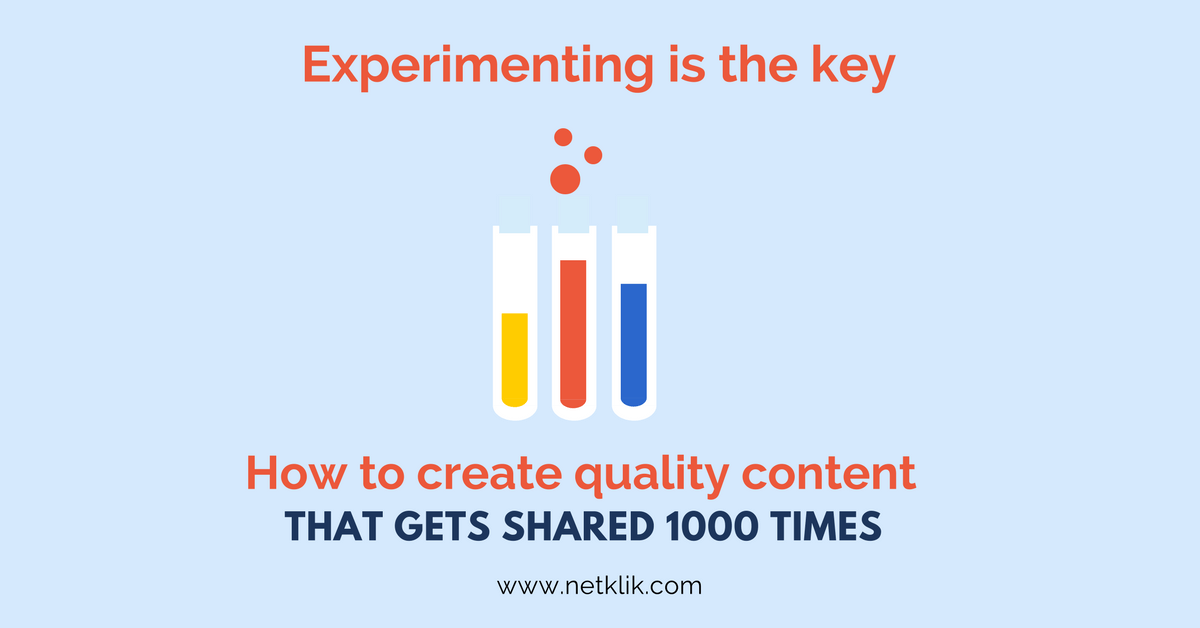 So what did I do? Well, I started experimenting.
It does not matter if you are just starting out or do not have many social media followers, the power of visual content is undeniable.
The experimentation has allowed me to proof that posts that include greater elements of visual content obtain better results.
Every post provides with a new opportunity to test different ideas and review what works best.
Some of the experiments you can do are:
Use different images for the same content.
Try using different types of visuals: for example, illustrations and photographs
Test different colors and fonts
Compare results on different social media channels
What I discovered
In order to evaluate the results of these experiments, you need to be patient, because in many cases the results are not seen immediately.
Before we jump into lesson 3, I created an infographic that illustrates the 3 lessons I learned.

Please assign the infographics to Netklik.com or use the embed code I have included.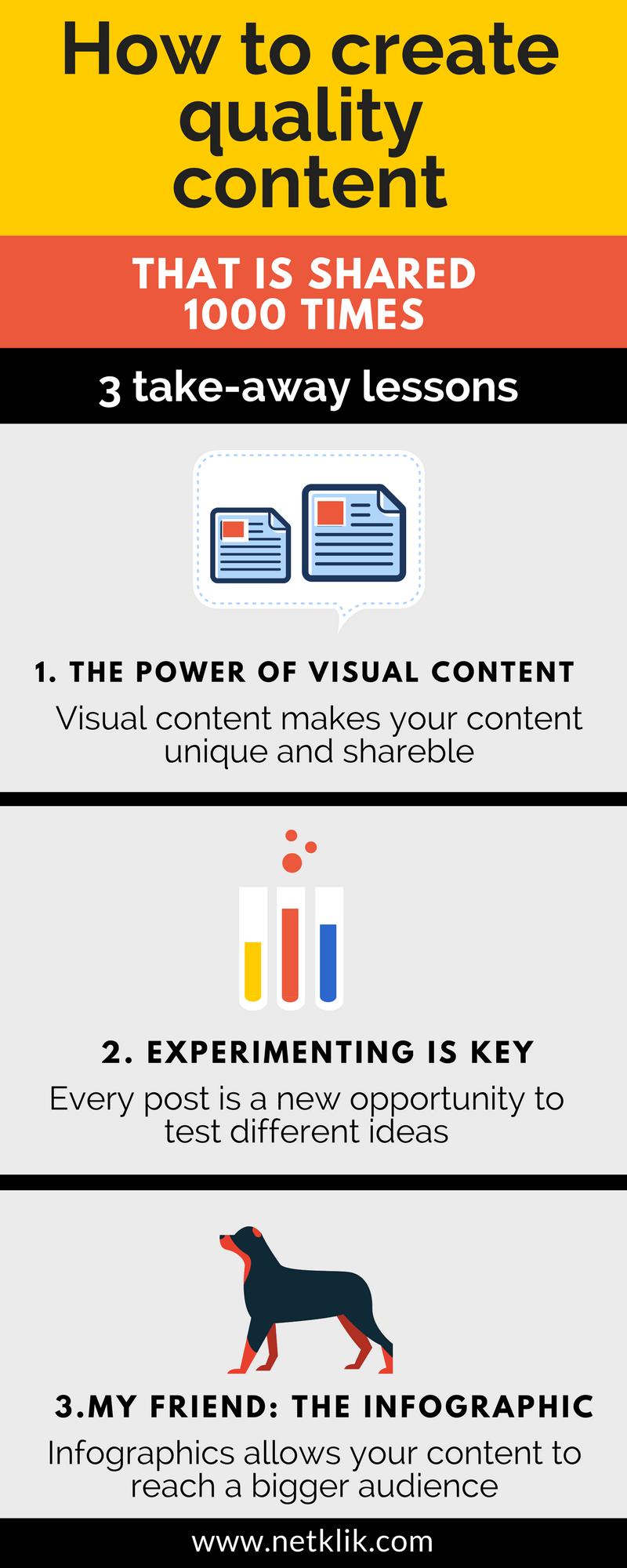 Code to embed the graphics
Use this code if you want to share the graphics
<

a

href

=

"https://www.netklik.com/online-marketing-strategies/how-to-create-quality-content/"

>

<

img

class

=

"alignnone size-full wp-image-1140"

src

=

"https://www.netklik.com/wp-content/uploads/2017/01/how-to-create-quality-content-infographic.png"

alt

=

"how to create quality content"

width

=

"800"

height

=

"2000"

/

>

<

/

a

>

<

a

href

=

"https://www.netklik.com/online-marketing-strategies/how-to-create-quality-content/"

>

Netklik

<

/

a

>
3. My friend: The infographic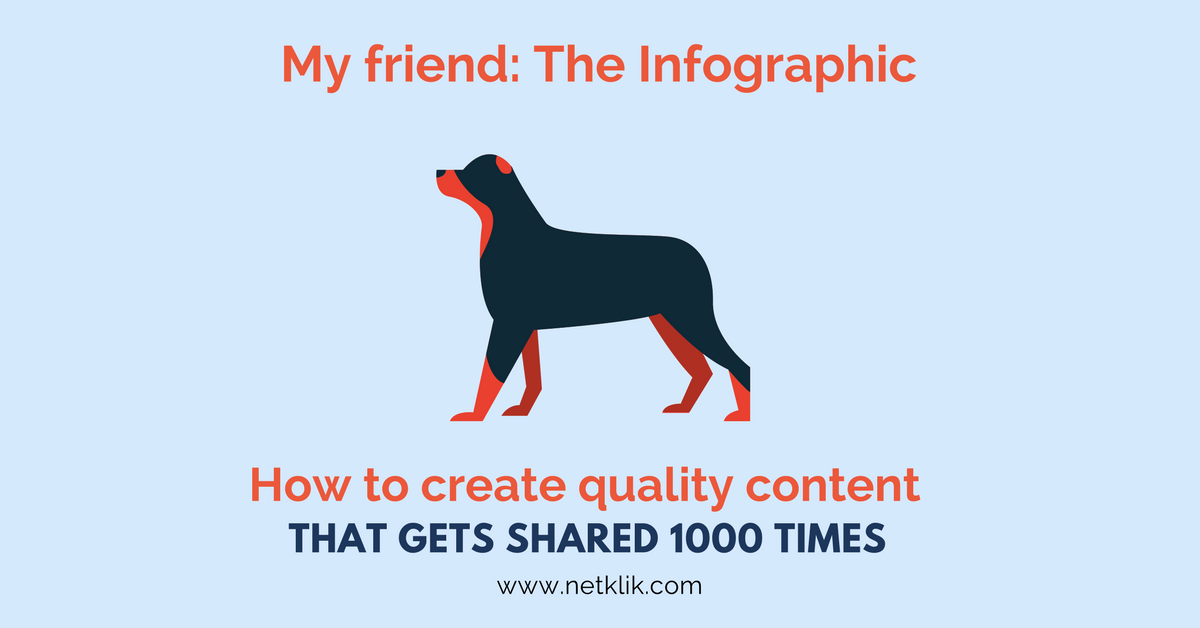 Since then I have created dozens of infographics and different types of visual content.
What the 2 posts I mentioned have in common is that both include an infographic.
Which clearly demonstrates the importance of including visual content in your marketing.
What I discovered
The use of the infographics has been key in the growth of my blog.
Most of the shares come from Pinterest.
Thanks to Pinterest, the infographics of my post are shared every day.
How can you apply all this
If you are not yet using visual content, it's time for you to get started. Remember to experiment and pay attention to the visual content you include on your website and in your online marketing strategy.
Create and online marketing strategy were visual content is the star of the show.