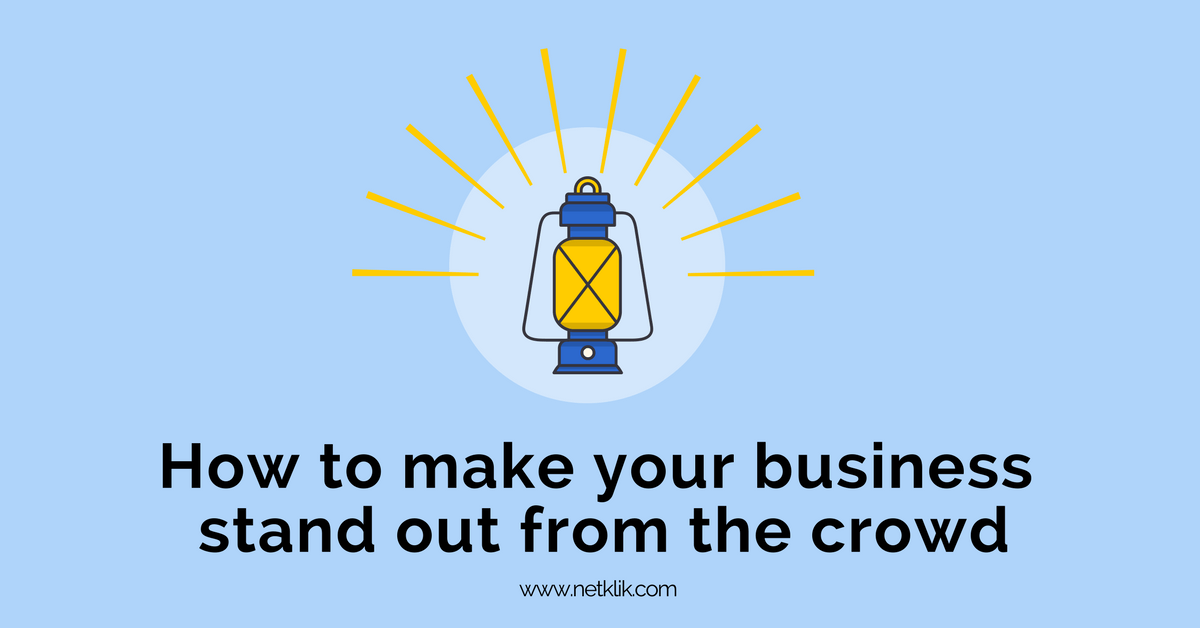 If your business sells products or services, you most likely have competition and probably spend more time than you want to admit thinking about how to make your business stand out from the crowd.
You probably have realized that this is not an easy question to answer.
I have learned that sometimes we need to ask ourselves different questions to find the best answers.
For example, the next question is a variation of the previous question.
What do you do need to do so that your audience prefers to do business with you over your competition?
A way to make your business stand out is by the experience that you offer to your clients when they work with you.
This applies the same way for businesses that offer services as for businesses that sell products.
Here are 3 additional questions to answer:
3 Questions you need to answer that will help you plan your clients' experience
Think about how your client feels during any of the following stages:
Before working with your business
After they start working with your business
Once they finish working with your business
It may seem obvious, but it is not.
Of course, it's a given that you must provide excellent value in your service or you must offer a high quality product.
Every day we make decisions in our business that effect how we are perceived by our clients.
If we do not have a clear vision about our business, it is very possible that often we will not make the best decisions.
For example, if we change the experience of our clients by minimizing costs, we are making a huge mistake.
During the summer my daughter had the opportunity to visit an amusement park where kids have the opportunity to accumulate points for each game they in and at the end they can use the points to get prizes .
She was telling me about her day and I was struck by her perception of her experience and the way she described it.
In her opinion, the experience could be seen in two ways:
1. Find ways to accumulate the most points to have the possibility to get a better prize.
2. Enjoy the experience without having the prize as goal
Having this conversation with her really made me think about  how often as entrepreneurs we forget to enjoy the moment and the process because we are always chasing the "prize" .
More importantly, how it's key as business owners to make an effort to understand and plan how we want our clients' experience to be when we work with them.
We definitely need to plan and design the experience for our clients.
4 Simple Steps to Learn How to make your business stand out from the crowd
Here are 4 steps to help you think about this process:
1. How does your audience feels before they become your client
The work begins before attracting your client.
If you spend time researching your audience, you will know their interests, what motivates them and what their aspirations are.
This in turn will allow you to communicate your message effectively to attract them to your product and services.
It is important to understand how your audience feels before hiring your services or buying your products.
It is a mistake to skip this step as it does not allow you to have a clear vision of the transformation that your service or product offers.
In other words, you need to think of a before and after, to have a clear picture about the transformation.
2. How to welcome them once they decide to work with your business
Once you attract your audience you must think how you want their experience to be, how you want your client to feel.
Surely you will want them to feel like they have made the right decision.
If that's the case, you need to think what needs to be done to accomplish this.
We have all had experiences in restaurants, where the moment we sit down at a table, we know that we made the right or wrong decision choosing the restaurant.
The same thing happens with your client,  so you have to make sure that the first impression they have of you and your business is positive.
3. How to offer the best experience to your client
Usually, if your business sells products, the time the customer interacts with your company is shorter.
If your company sells services, this time can be variable.
In both cases you should think about how you want your client to feel during the process.
What kinds of situations can disrupt a great experience and what can you do about it.
When a client buys a product, you need to think about what you can do so that the client combes back and again and again from you.
Doing a good job at this stage will allow you to have a happy customer, who naturally and spontaneously will be motivated to talk well with their family and friends about their recent experience.
I have created an infographic that illustrates the 4 steps that you must follow if you want to learn how to make your business stand out from the crowd.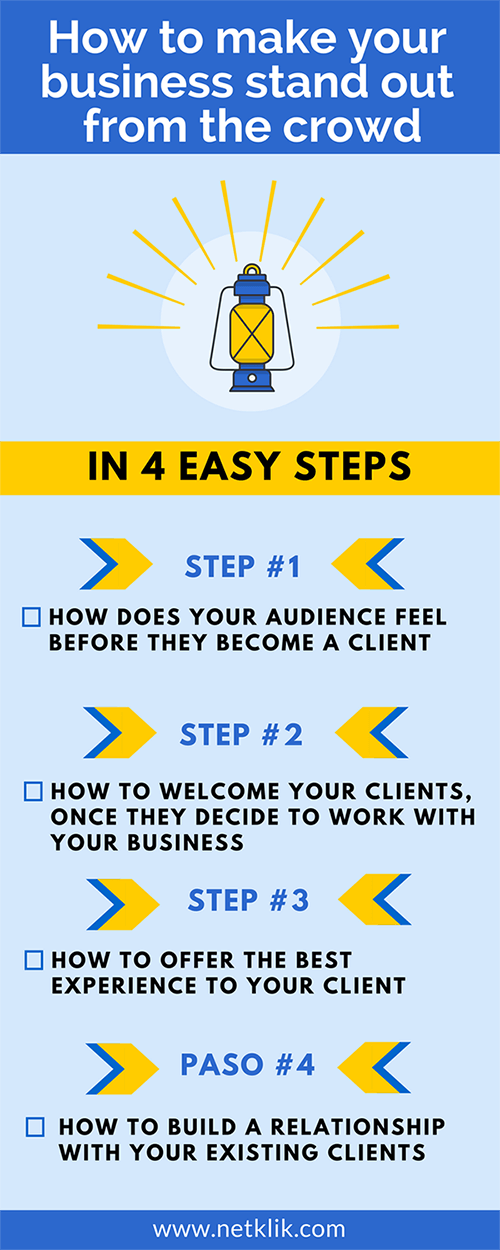 Code to embed the graphics
Use this code if you want to share the graphics
<

a

href

=

"https://www.netklik.com/online-marketing-strategies/make-business-stand-crowd/"

>

<

br

>

<

img

class

=

"alignnone size-full wp-image-1237"

src

=

"https://www.netklik.com/wp-content/uploads/2017/03/how-to-make-your-business-stand-out-from-the-crowd-infographic-2.png"

alt

=

"How to make your business stand out from the crowd"

width

=

"500"

height

=

"1250"

/

>

<

/

a

>

<

a

href

=

"https://www.netklik.com/online-marketing-strategies/make-business-stand-crowd/"

>

Netklik

<

/

a

>
4. How do you build a relationship with your existing clients
It is no secret that the probability that a person will buy your products or services once you know them is greater.
You must think about everything that you can do to maintain and develop the relationship with your existing clients.
Conclusion
It is becoming increasingly difficult to excel and compete. One way to do this is to make sure that the experience you offer is unique. The best way to do this is to plan it.