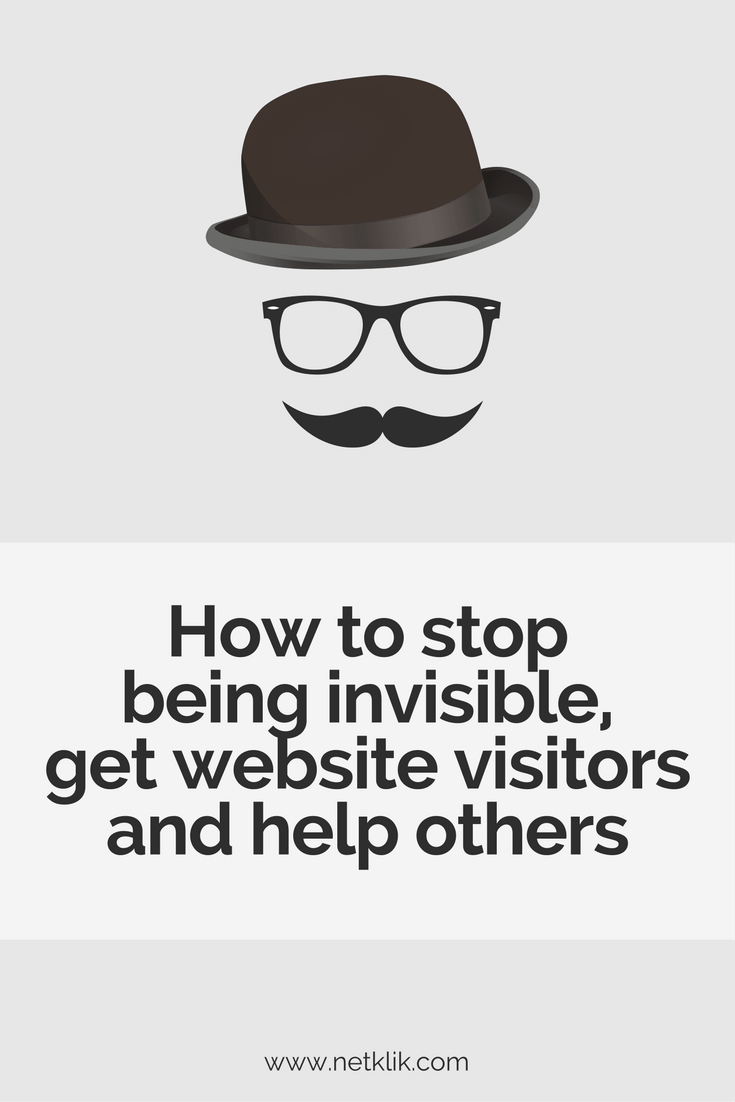 If only it were that simple, right?
Wouldn't be a amazing to have your content read by hundreds or thousands of people?
I want to share with you my process so your website can stop being invisible and get website visitors so that you can do it too.
Before we start
I want you to know that it's not as complicated as you think.
Of course the key is to take action.
With this I mean, that you need to understand that there is a very big difference between knowing what you have to do and actually doing it.
Knowing and Doing
It turns out that they are two different things.
1. Knowing what you have to do, and
2. Doing by taking action and putting into practice what you know
I know this because it was exactly what happened to me.
Now, I understand that knowing what to do and actually doing it, are 2 very different things.
Even though I knew what I had to do to get website visitors
I was not doing it.
How to Stop Being Invisible
I knew I had to create consistent content for my blog, but who has the time for that? Right?
I would like to say that I quickly took action and immediately started the Netklik's blog, however that's not true.
I started quite slowly and irregularly.
Just get started
About 2 years ago I started writing content regularly and everything.
The truth is that I did not have a plan and even less a system.
I started doing it as a way to develop the habit of writing, publishing and sharing content.
How to develop your voice
At first, I use write tutorials, but over time the topics that I blog about have changed.
If you want your business to be successful online, your business needs to be found on the internet, and for that to happen, you need to develop a voice that allows people to listen to you.
I chose blogging as my main content distribution channel.
I realized that my content would not be invisible, if I managed to be found on Google, if my content was shared on social media and read by email subscribers.
As a result, I decided to test the waters and experiment with these channels.
Get website visitors
The key to keeping your content from being invisible and being discovered is to create the right content and share it consistently.
I know what you're thinking.
How do you know what content to create?
You really will not know what content you have to create until you start to create it, test it and measure your results.
Do the work
The only way to test if your ideas will work is to get your hands dirty and do the work.
At least, that's the only way I know of getting the answers to my questions.
I will share with you what I have learned so that you can learn from my experience and apply it to your business.
3 Practical ways that help you think about your content
1. Pre Sales Content
This type of content is more educational than anything else and your goal should be to help and provide immense value.
To create this type of content, you need to be able to distance yourself from the sales process.
You need to take a step back and think beyond the problem that you solve for your ideal client.
In many cases your ideal client is not clear that they have a problem.
They may be starting to think that is something is off, but they really do not have a clear idea of what the problem is, let alone what the solution is.
For this reason, it is important to take a step back and understand what stage of the process your audience is in and create content that talks about it.
2. Content to Sell
When creating this type of content you must be able to communicate effectively because someone must pay for your products or services.
You should be able to answer the following questions clearly:
How is your service or product different?
How does your competition differ?
Why is your service or product important to your customer's idea?
3. Content after the sale
Likewise, it is important that you continue to create content for your customers.
This content allows you to continue improving the experience of your customers, gives your customers the possibility to advance in the process and become more sophisticated.
Understanding all this has taken me longer than I would like to admit.
At the same time, no matter how fantastic your content is, if it's not seen by the right people.
If you want to stop being invisible, you need to consistently create and share content.
I have also learned in order for me to achieve this, I need a system for content creation.
A system that allows me to create a strategic content plan that is aligned with my goals and at the same time serves as a structure and helps me to create content consistently.
Helping others in the process
Lastly but not least important is realizing that I am actually helping real people.
When I started, I was creating content for my invisible readers, but now I hear from you, I get your emails, social media messages and I get to interact with you in live webinars.
This is by far the most rewarding part of the process and it fuels me to keep going.
Today, thanks to the contents of my blog, I have the possibility to interact and work with people in all parts of the world.
This changed everything for me.
7 Step Checklist: How to Stop Being Invisible, Get Website Visitors and Help Others
To make this process easier for you, I created an infographic with a checklist that can serve as a guide to remind you what you need do to stop being invisible, get website visitors and help others!

Code to embed the graphics
Use this code if you want to share the infographic
<

a

href

=

"https://www.netklik.com/online-marketing-strategies/get-website-visitors/"

>

<

img

class

=

"alignnone size-full wp-image-953"

src

=

"https://www.netklik.com/wp-content/uploads/2016/11/get-website-visitors-infographic.png"

alt

=

"get website visitors"

width

=

"300"

height

=

"1500"

/

>

<

/

a

>

<

a

href

=

"https://www.netklik.com/online-marketing-strategies/get-website-visitors/"

>

Netklik

<

/

a

>
You can do it too
You should not see the content creation process as a short distance race, but rather as a marathon.
It took me years to commit to the content creation process.
Perhaps because I was not clear that content creation is not only a key component of any business that wants to be successful on the internet but also indispensable.
I have shared with you my process so you can stop being invisible and get website visitors.
The quicker you commit to creating consistent valuable content that helps your audience, the faster you'll see the results.