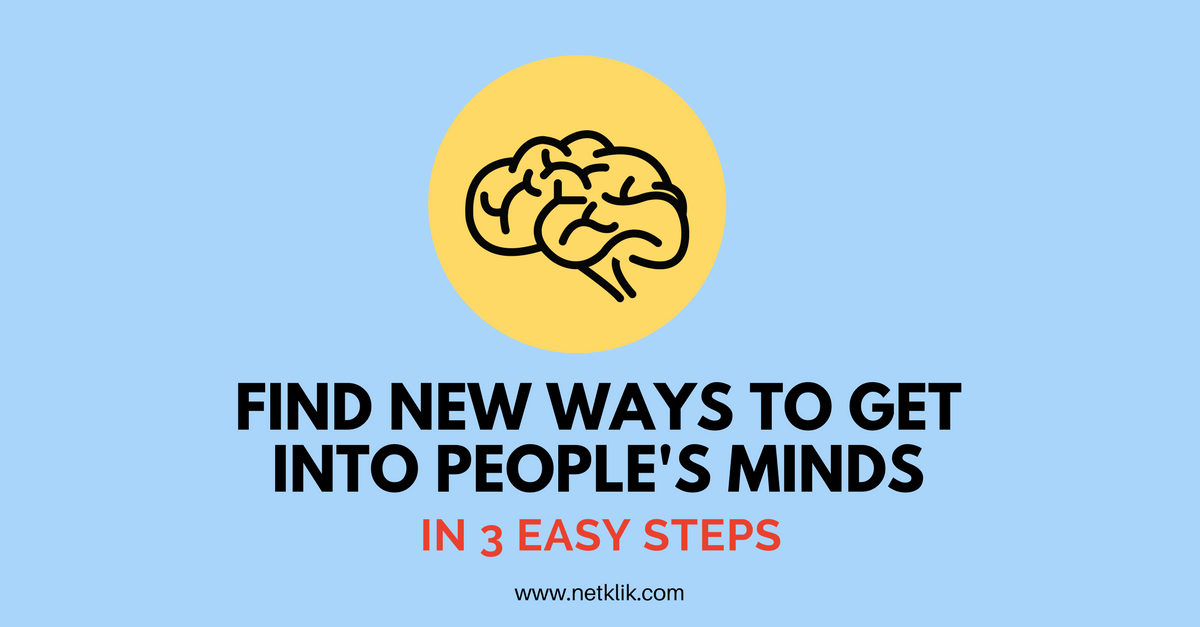 If you wish you could find new ways to get into people's minds, the first step is to understand what's happening in your own mind.
I know, easier said than done.
Today, I want to share the story of how I did it.
A few weeks ago, I drove my son and his friends to the movies.
I was also responsable for picking them up.
So before I dropped them off at the movies, we set our meeting spot near the valet parking area.
Of course, I made sure to be there a few minutes before the movie ended.
So to kill time I ended up driving in circles around the parking lot.
I had no idea that I was about to learn an important lesson
I was struck by how huge the parking lot was … more importantly by the number of empty parking spaces that were available.
Immediately I started to think, why do we really need valet parking at the movie theater with the huge number of parking spaces available.
It was just at that precise moment that I realized where my thoughts were leading me.
So I decided to pay closer attention to what was happening in my mind.
I quickly realized how wrong I was
Yes, personally, I don't need valet parking at the movies, because if there are parking spots available, why would I use valet parking?
Obviously, that way of thinking is not right.
And it is a big mistake.
In fact there was a huge line of cars waiting for valet parking.
Which serves as further evidence, that I was just analyzing the situation from my point of view.
Obviously there are people who do not want to have to park their car or walk.
These people prefer the convenience of leaving the car and jumping straight to the movies in a minute.
There are also people who for health reasons have difficulty walking.
In other words, in just a few minutes we can conclude why it's a good idea to offer valet parking at the movies.
I definately learned my lesson and it was an amazing exercise to go over my thought process.
How to apply this lesson in your business?
I suggest that the next time you find yourself drawing a similar conclusion, slow down for a minute and pay more attention to the situation.
In order to have a conversation with your audience and effectively communicate your message, you need to understand who your audience is.
It does not matter if this conversation happens in person, through your website or social media.
Of course this seems obvious, but it is not.
You need to learn to put yourself in other people's shoes
In other words, you need to learn to look at situations from different point of views.
When we provide services, sometimes we are so caught up in our own world and we are so in love with with what we do and the services that we offer, that we loose perspective.
This prevents you from seeing your services from the point of view of your potential client.
When this happens, we could easily compare it to the effect of having a wall in front of you.
A wall that prevents you from seeing what is around you.
Unfortunately, it also prevents you from seeing opportunities.
And this was exactly what happened to me.
The first step is to realize that it is not about you.
And it has nothing to do with how good you think your service is.
The key is understanding that your service really solves a problem for your audience.
Learning to see problems from the point of view of a business is not always easy and I am also working on developing this skill.
Find new ways to get into people's minds instantly in 3 easy steps
1. Think about your potential client (not yourself)
Analyze the problem from the point of view of the target audience, instead of looking at the problem only from your point of view.
This will require that you learn to see the situation under different points of view.
The best way to achieve this is to talk with other people.
The results of this exercise will be even better if those people are part of your audience.
2. Develops the ability to see different problems in one situation
One situation can present multiple problems.
The best way to identify them is to invest some time thinking about the situation and make a list of possible problems.
Before continuing with the third step, I want to share with you an infographic that illustrates the 3 steps you need to take if you want how to find new ways to get into people's minds instantly.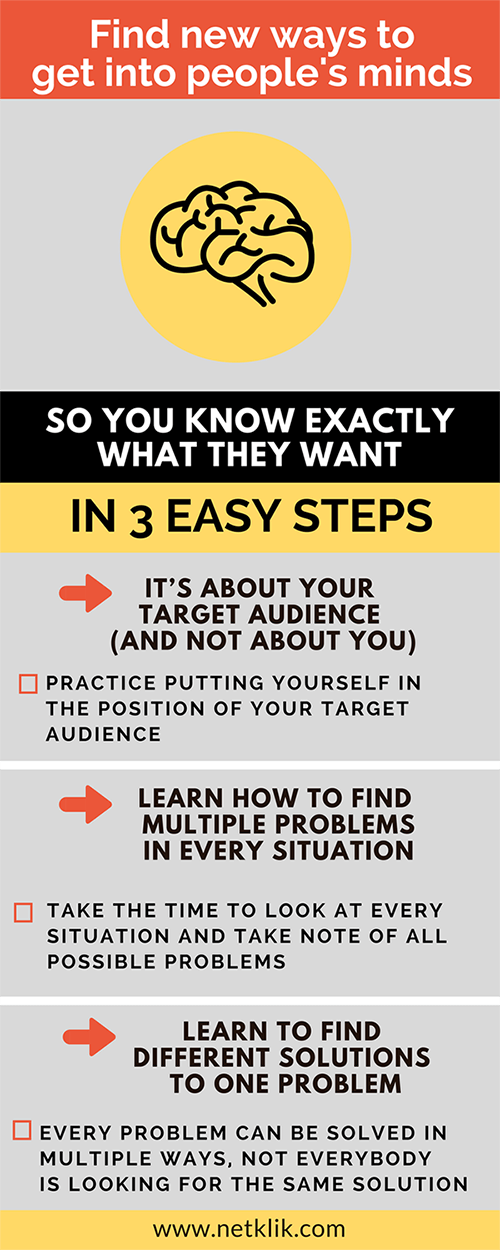 Please attribute the infographics to Netklik.com
Use the embed code I've included
<

a

href

=

"https://www.netklik.com/online-marketing-strategies/find-new-ways-get-peoples-mind/"

>

<

br

>

<

img

class

=

"alignnone size-full wp-image-1393"

src

=

"https://www.netklik.com/wp-content/uploads/2017/08/find-new-ways-to-get-into-peoples-minds-infographic-2.png"

alt

=

"Find new ways to get in people's mind"

width

=

"500"

height

=

"1250"

/

>

<

/

a

>

<

a

href

=

"https://www.netklik.com/online-marketing-strategies/find-new-ways-get-peoples-mind/"

>

Netklik

<

/

a

>
3. Develop the ability to find different solutions to one problem
A problem may have different solutions.
Take the time to make a list with possible solutions.
The better you understand the problem, the more creative you can be with the solutions you offer.
Remember that sometimes the same problem can be solved in different ways, depending on who your audience is.
Conclusion
This is one of the most important lessons I have learned, once again everything points to improving the way you understand your audience and to have clarity on how your service is the solution to your audience's problems.