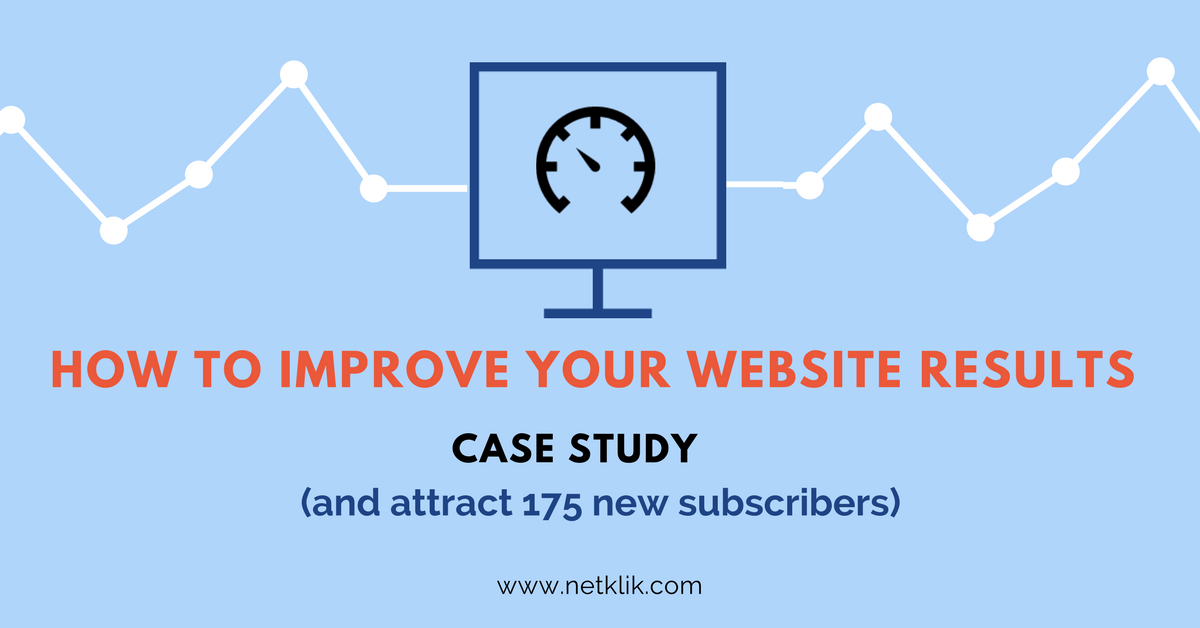 If you often find yourself thinking how to improve your website results, you are in for a treat.
Today I am happy to share with you a case study from a website audit.
I had the pleasure of working with Alejandra Yepes from Empiric.us .
Empiric.us is a service business in Colombia, which offers online training opportunities in technical areas, through their own web platform of challenges.
To make this case study as practical as possible, I am including some of the questions I asked Alejandra before and after the website audit.
1. What was the biggest challenge of Empiric.us before the website audit?
To increase the number of people who request to perform the demo of our platform of challenges.
2. What do you consider were the most valuable recommendations of the website audit?
a. Improve the home page
The website audit allowed us to realize that our home page was not as good as we thought.
Your observations allowed us to see that our message was not clear.
We must do a better job of communicating to our audience what the benefits of the service we offer are.
In order to do this, need to rethink our target market and decide if our audience is the end consumer or if we want to focus on working with businesses.
Now we know that the most important thing is that when people get to our website, immediately they need to understand what we do and how we can help them.
B. Now I understand where I need to focus
Thanks to the website audit, I realized that there were many things that we still need to wok on, because nobody told us what we had to do.
The graphic design of the website
We investedt a lot of time and money in graphic design and today I see how that is not the most important thing.
Fight paralysis by analysis
I also understand how important it's to avoid falling into paralysis by analysis.
In the exercise of moving and taking action you learn and it is possible to test out ideas and see if they work or not.
3. How was the process of making changes to the website after the audit?
Working on specific areas makes the process easier
Thanks to the website audit, we had very specific points to work on and that made process of taking action easier.
I was able to work step by step, because I had specific points to focus on.
Clarity makes the process easier
It was very helpful to realize that we needed to decide on which market we wanted to focus on.
Before we were focused on 2 types of users.
The moment we decided to focus on only one, everything became easier.
In the past, what was the process of making changes to the website?
Before, we often did not know in which areas we needed to focus on..
When you have a clear picture of everything you need to do to improve, it is easier to get started.
4. Do you now feel differently about your website?
Totally, I am now relieved, calm and feel like I am making progress..
Sometimes you know that you need to improve things but you really don't know what to do or where to start.
When you are able to focus on working on specific points, the process is more effective and easier to navigate.
Having a plan or visual map that includes everything I have to do, makes me feel calmer and also helps me because I can check off every task as I complete it.
Even though I know that there are a thousands of other things I can do, I understand that I have to focus on the main actions.
Although it's difficult o imagine, each task that I need to complete is an exercise in its own, or rather it's a separate project.
The idea of being able to complete each task and project is very rewarding.
The feeling that remains is of accomplishment
Although I know I'm missing other things, I know I worked on the most important tasks that will bring me closet to my desired results.
5. Can you share some of your results after you took action and implemente the website audit recommendations?
Of course, after making the changes to our website, we did a live event to see how people interacted with our platform.
We were able to validate that now our message and process are clear and without instructions people go to the website and understand what we do.
Better still register for the demo.
How many people entered the platform after the changes they made?
We got 175 new people who registered. This would not have been possible had it not gone through the process of the website audit.
I also noticed that people now come to the website because they search on Google and register on the platform.
This is further proof that the information to register and download the demo is clear.
6. Is there anything else you would like to add?
The website audit was revealing to me and I now realize that we were missing the external opinion of an expert.
The website audit allowed me to identify errors that we din not know we were making.
All the recommendations from the website audit report are are clear, detailed and easy to understand.
The service of web audit is truly unique and I recommend it for those who want to improve the results of their website.
That's all for now.
I want to thank Alejandra for allowing me to share this case study.
I know that if Alejandra and her team continue to work consistently on their online strategy they will soon achieve even better results
Infographic
I have prepared an infographic that illustrates how to improve your web page in 4 simple steps.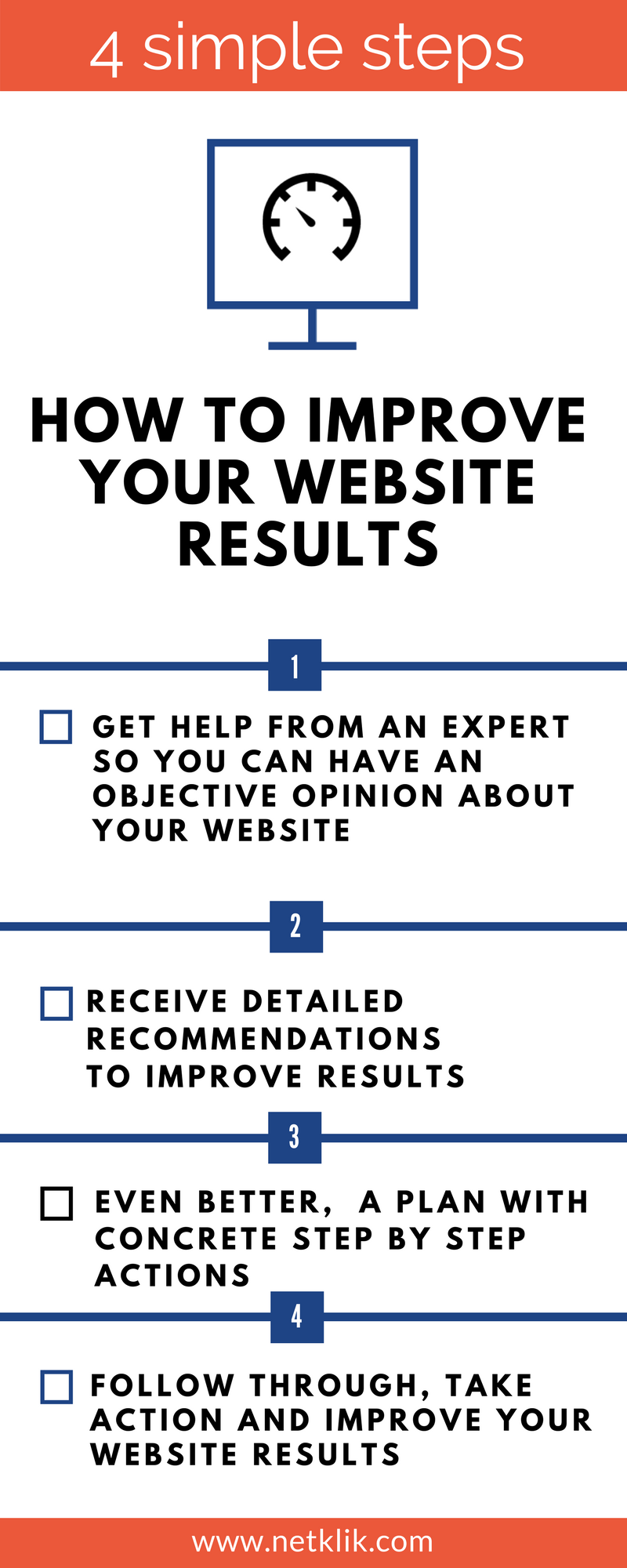 Code to embed the graphics
Use this code if you want to share the graphics
<

a

href

=

"https://www.netklik.com/online-marketing-strategies/how-to-improve-website-results/"

>

<

br

>

<

img

class

=

"alignnone size-full wp-image-1194"

src

=

"https://www.netklik.com/wp-content/uploads/2017/02/how-to-improve-your-website-results-i.png"

alt

=

"how to improve your website results"

width

=

"800"

height

=

"2000"

/

>

<

/

a

>

<

a

href

=

"https://www.netklik.com/online-marketing-strategies/how-to-improve-website-results/"

>

Netklik

<

/

a

>
Conclusion
I wanted to share this case study with you, because it seems like an excellent example of how often they key is to look for help and get a different point of view that that allows you to objectively evaluate the situation in which you are.
If you are looking for ways to improve your website or if you are not sure what is the next step you should take in your strategy, it is always a good idea to consult with others who have more experience.
So don't wait any longer, take the next step.