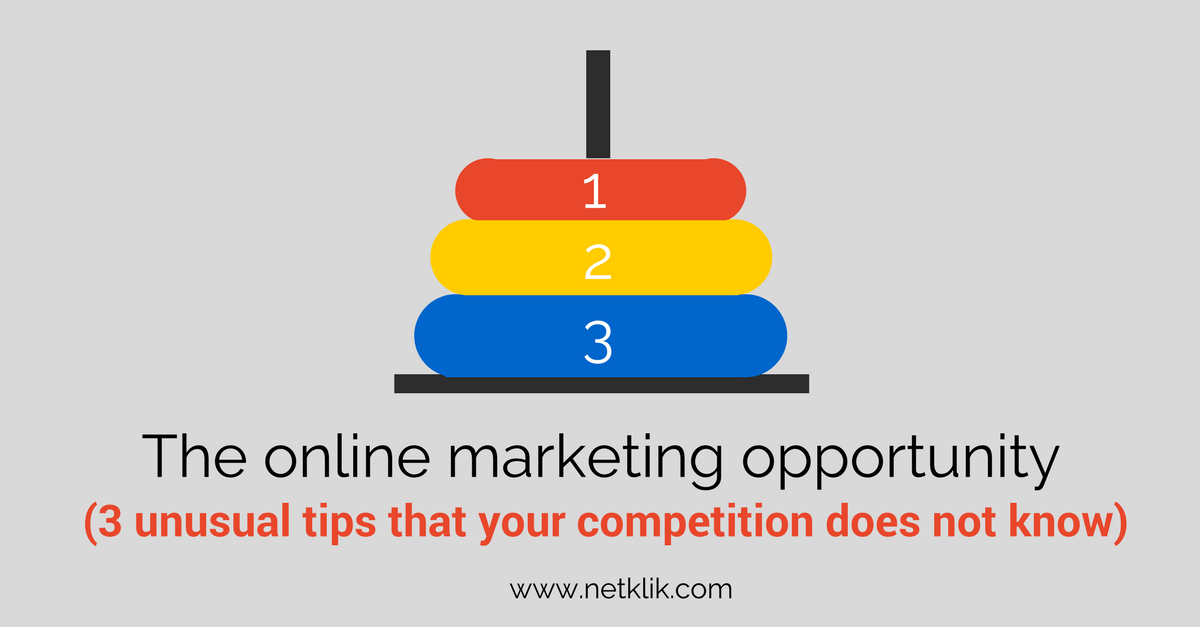 Surely some times you have had the opportunity to observe the happiness of a child when he finally receives a gift that he has been longing for.
What's more, maybe it happened to you and you remember the moment.
Sometimes that moment is followed by a great frustration.
Either because the packaging is complicated to open or opening the gift and putting it to work takes more time than originally thought.
These minutes of frustration have nothing to do with the end result, the gift as such; however learning to handle frustration can make all the difference.
You may be wondering what the reason for this example is.
Being an entrepreneur is not easy
I have had the opportunity to talk with people who often feel misunderstood within their own family and circle of friends.
Sometimes it happens that what the obstacle that stands in our way can also be the source of great opportunity.
Online marketing sometimes generates frustration, but I want you to understand that just below frustration lies the hidden opportunity.
That's probably what attracted you to online marketing in the first place.
If you feel that online marketing is difficult, please continue to read
It often happens that the more you learn online marketing, the more you loose perspective of what you really want and should see.
When you think that your biggest problem is to understand and learn how to use the latest technologies to grow your business, and you dedicate much of your energy in doing so, without realizing you lose sight of the vision of your business and the impact you want to achieve.
I have spent the last few days learning and absorbing from people who have already gone through the stage where my business is currently, and I have realized that the most important thing is not to loose perspective.
The truth is that it is of no use to be an expert in SEO, a master in Facebook Ads, a specialist in social media, have the best camera or the best recording studio if you do not have a clear vision of your business and how the services you offer help others.
The online marketing opportunity (3 unusual tips that your competition does not know)
1. Learn marketing online from others who have already solved the problems you are trying to solve
It is true that online marketing is not super easy, but it is also true that it does not have to be complicated.
I think it's important to learn to re-frame or rethink how we learn online marketing.
The moment we stop being afraid of technology and online marketing, we realize that online marketing is not the problem or the obstacle but rather it is an opportunity to grow your business.
It is an opportunity to attract your potential client and develop the relationship with your audience.
What you should do
Learning online marketing is not something you can delegate. If you do, your luck will depend on others. This does not mean that you need to be responsible for implementing your strategy, but you must understand enough to understand what your strategy is.
2.The importance of making connections
The purpose of the online world is to offer us the possibility of connecting with other people regardless of our geographical location.
After all, that's the most important thing.
The online world removes language barriers and geographical location.
For business owners this translates into being able to attract people who are interested in learning more about our message and it is up to us to develop that relationship and create a community around our message.
What you should do
Think about what you are doing today to attract your audience, to offer added value.
No matter what your business is, your services must solve the problems that your audience has. Your audience is made up of real people, with real problems.
Now think about how you could improve and more importantly what is the first step you should take is.
I created an infographic that illustrates the opportunity of online marketing (3 unusual tips that your competition does not know.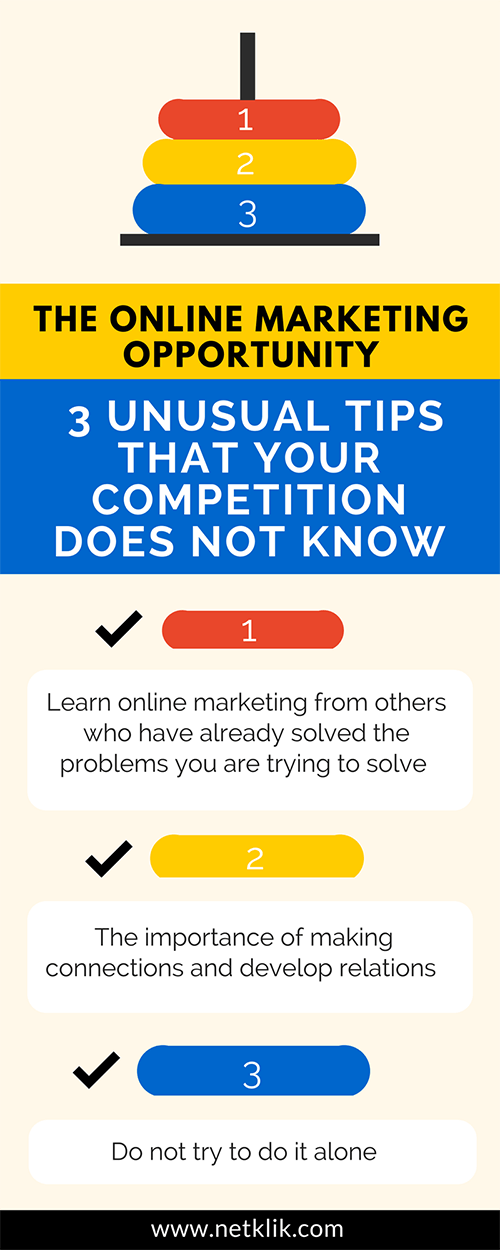 Please attribute the infographics to Netklik.com

Use the embed code I've included
<

a

href

=

"https://www.netklik.com/online-marketing-strategies/online-marketing-opportunity/"

>

<

br

>

<

img

src

=

"https://www.netklik.com/wp-content/uploads/2017/05/the-online-marketing-opportunity-infographic.png"

alt

=

"the online marketing opportunity"

width

=

"500"

height

=

"1250"

class

=

"alignnone size-full wp-image-1310"

/

>

<

/

a

>

<

a

href

=

"https://www.netklik.com/online-marketing-strategies/online-marketing-opportunity/"

>

Netklik

<

/

a

>
3.Do not try to do it alone
When we try to solve problems alone, it is difficult to realize that we let the problems seem bigger than they really are and this makes you feel stuck.
When you share concerns or questions with other people, you can hear other views and opinions that can help you approach the problem from another angle.
What you should do
When you stop sharing your problems with others who are in a situation similar to yours, it is a bit like drowning in a glass of water.
There is nothing more powerful than listening to feedback from others to realize that things are not as complicated or difficult as you think.
This makes all the difference in the world.
Remember the example with which I started this post, do not let the frustration and discomfort of having to learn online marketing become an obstacle.
It may be that your website is not working as you expected or that your social media strategy does not produce results.
No matter what the problem is, remember that opportunity is waiting for you.