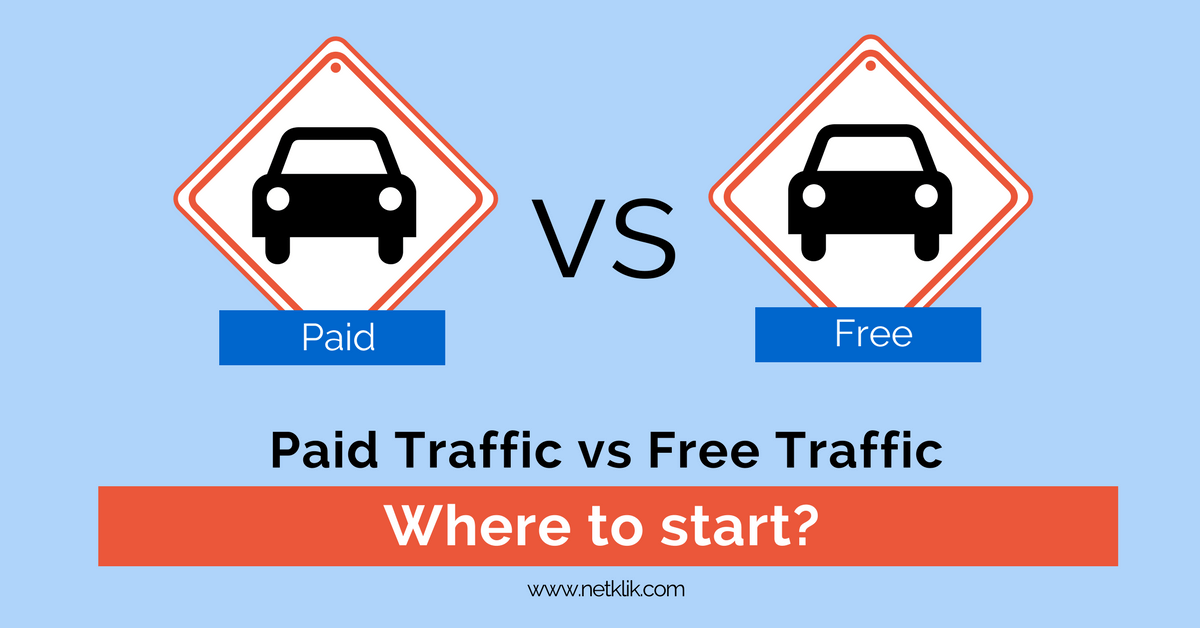 This is a common question when it comes to thinking about the best way to drive traffic to your services.
And the answer is that it really depends.
Before going into detail about the advantages and disadvantages of both types of traffic, I want to clarify exactly what I mean by these two terms.
Lets start with free traffic.
What is free traffic?
When we talk about free traffic we refer to the website traffic that you did not have to pay for.
Examples of types of free traffic
Some examples of free traffic are: traffic coming directly from Google or social media.
Advantages of free traffic
I don't know any business who does not want their phone constantly ringing because they have a consistent flow of visitors coming to their website without having to pay for it.
If we have to mention some disadvantages it is important to be clear that building free organic takes time and should be part of a medium- or long-term strategy.
What is Paid Traffic?
Paid traffic is that traffic your website receives as a direct result of paying for ads.
Examples of types of paid traffic
Some examples of paid traffic are the traffic coming directly from Google Adwords, paid Facebook ads, Instagram ads, LinkedIn ads, etc.
Advantages of paid traffic
Although we sometimes think that it is not ideal to have to pay for traffic, especially when you are starting a new business.
The paid traffic is essential to growing your business.
You only have a problem when you pay for traffic before you know how to convert traffic into clients.
Nowadays there are so many alternatives to generate traffic that the important thing is to focus and know where your customers really are and what you think is the best strategy for your business.
I have been able to experiment with both types of traffic and what I have learned is that there is a very close relationship between the two types of traffic.
The relationship between organic traffic and paid traffic
What I have seen happened is that the content that is positioned in Google also performs well in social media and vice versa so in my opinion mixing both strategies is the answer to the question about what is the best strategy.
For example, if a post is positioned in Google, it is probably a good idea to invest in Facebook ads for that specific post.
Paid vs. free traffic (3 keys to design an integrated strategy)
1. The message is everything
Regardless of the source of traffic, whether organic or paid, if the message is unclear and does not connect with your audience, the result will not be good.
The reality is that no one likes to be sold.
The same is true of paid ads.
The goal of the ad should be to offer free valuable content that will allow you to help and connect with your audience instead of selling.
In a nutshell, the idea is to use content to monetize.
A great example of a business that does this well is: bumblebeelinens.com , this business is dedicated to sell handkerchiefs and the content of the blog talks about the different applications of handkerchiefs.
That is why it is so important to work on developing the right message.
2.The magic of combining organic traffic and paid traffic
The magic happens when we learn to combine both strategies.
This is an area where I still have a lot to learn, but I will share with you some ideas that you can use as a starting point.
When a post performs well on social meda, this is a sign that you should create more related content on your blog or website.
The idea behind this is that the likelihood of these content being well positioned in Google is high.
At the same time you can also consider including the post that generates organic traffic effectively as part of your paid ad strategy.
In the same way when the content is positioned well in Google, this also means that it has high probabilities of having good engagement in social media and it's content that will be also shared.
So you can also consider using the same content as part of your paid traffic strategy.
I have created an infographic that illustrates the 3 keys to design an integrated strategy using paid traffic and free traffic.

Please attribute the infographics to Netklik.com

Use the embed code I've included
<

a

href

=

"https://www.netklik.com/online-marketing-strategies/paid-traffic-vs-free-traffic/"

>

<

br

>

<

img

class

=

"alignnone size-full wp-image-1339"

src

=

"https://www.netklik.com/wp-content/uploads/2017/05/paid-traffic-vs-free-traffic-infographic.png"

alt

=

"paid traffic vs free traffic"

width

=

"500"

height

=

"2389"

/

>

<

/

a

>

<

a

href

=

"https://www.netklik.com/online-marketing-strategies/paid-traffic-vs-free-traffic/"

>

Netklik

<

/

a

>
3. Experimenting is key
To get the most out of your content that performs well, the key is to experiment.
The question becomes how to reuse content that performs well in Google organic search with paid and vice versa.
Once we learn how to do this, it is very easy to make the decision to pay for traffic because the risk is much lower.
Conclusion
There seems to be a relationship between the performance of paid traffic vs. free traffic.
Unless you have a generous budget, my recommendation is to understand that it is probably best to use a combination of paid and free traffic.